Future meetings and events
Mon 4th November 2019 at 12.30 - 14.30 Speaker: Lucy Waldock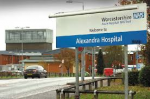 Lucy Waldock is Senior Nurse Manager in the Opthalmology Department at the Alexandra Hospital.
Fri 13th December 2019 at 19.00 - 22.00 Inner Wheel Christmas Dinner, Redditch Golf Club

Once again, Rotarians are invited to join Inner Wheel's Christmas Dinner. The cost will be £21 a head, and there will be a cash bar.