Future meetings and events
Mon 22nd July 2019 at 12.30 - 14.30 Discussion - Club Policies

An important discussion about key policies we need to have in place for the continued operation of our club.
Mon 29th July 2019 at 12.30 - 14.30 Friendship Meeting - 'Pirates'

2019/20 President Derek Dixon continues the monthly Friendship Meetings started by predecessor Noel Pritchard, so please invite partners and guests to come along. The theme for July is PIRATES.
Mon 12th August 2019 at 12.30 - 14.30 Visit by District Governor, Bala Jaspal

The District Governor for 2019-20, Mrs Bala Jaspal (Yardley & Sheldon) will be paying her first visit to our club.
Tue 13th August 2019 at 14.00 - 15.30 Visit to Sacred Heart & St Catherine Church, Droitwich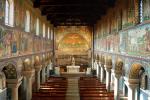 A visit has been arranged to view this remarkable church, designed in Byzantine style by Frank Barry Peacock, and featuring stunning mosaics by Gabriel Pippet. There is no entrance charge, but you are invited to make a donation.
Sat 12th October 2019 at 19.30 - 22.00 Midland Youth Jazz Orchestra - Autumn Concert
MYJO return to Redditch to delight audiences with their varied repertoire of Big Band music, this time with an autumn flavour.