Future meetings and events
Mon 13th May 2019 at 18.30 - 19.30 Business Meeting at the Beer Cafe
Our May Business Meeting
Sun 2nd June 2019 at 10.00 - 15.30 Classic & Vintage Car Show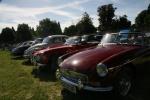 Come along and enjoy the Classic and Vintage Car Show at the Elveden Walled Garden
Mon 10th June 2019 at 18.30 - 21.00 Business Meeting at the Beer Cafe
Club Assembly. At this meeting the new team for the coming Rotary year set out their plans.
Mon 24th June 2019 at 18.30 - 21.30 Charity Presenatation Evening - Slates Restaurant
This is the night when we meet up with all the Charities we support, to hand over the donations, and celebrate their contribution to our community.
Sun 30th June 2019 at 17.00 - 21.30 Club Handover Celebration - Hawstead Village Hall
This is the night when President Nigel will handover the Jewels to next year's President Wendie. A celebration barbeque and drinks will accompany the formalities.