Future meetings and events
Thu 24th January 2019 at 17.15 - 20.15 Council / Business Meeting
Council Meeting at 17.15 followed by meal at 18.30 and the Business Meeting
VH-Geoff Makin C-Philip Wallwork
Thu 31st January 2019 at 17.45 - 17.45 No Meeting
There is no meeting on 31 January. It is replaced by the Wine & Food event on Saturday 2 February.
Sat 2nd February 2019 at 19.00 - 22.30 Gourmet Wine & Food Evening
The theme of the event is New World - S America, S Africa, Australia and New Zealand. Food inspired by these countries is served alongside a superb range of matching wines. A fund-raising evening for charities in the Guisborough & Gt Ayton area.
Thu 7th February 2019 at 17.45 - 19.15 Glimpses of China
A talk by Philip Wallwork
VH-Jill Jakubowiak C-Brian Whitfield
Thu 14th February 2019 at 17.45 - 20.15 Brickyard Bakery
A talk by Ed Trewitt at 19:00 after our meal at 17:45
Thu 21st February 2019 at 18.00 - 21.00 Holey Molie's
A fun evening of crazy golf and food at Holey Molie's in Skelton. Details to follow.
Thu 28th February 2019 at 17.15 - 20.15 Council / Business Meeting
Council Meeting at 17:15 followed by meal at 18:30 and the Business Meeting. VH-Peter Torbet C-Peter Etwell
Fri 26th April 2019 at 11.00 - Sat 27th April 2019 - 23.00 Guisborough Beer Festival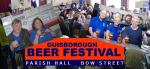 Held at the Parish Hall in Bow Street in Guisborough on the Friday & Saturday after Easter. 30+ real ales plus ciders, perry and local fruit wines. Come and sample our award winning steak & ale pies and lots more. Entertainment on Saturday evening.