Future meetings and events
Wed 15th August 2018 at 19.30 - 22.00 Business Meeting
Sat 18th August 2018 at 19.30 - 20.30 "Out of The Shadows" sixties tribute band fund raising evening
Fund raising evening for the Annie Mawson's Sunbeams Trust at Cliburn Village hall.
Wed 22nd August 2018 at 19.30 - 22.00 Peter Whiting
Tue 28th August 2018 at 19.30 - 22.00 Bill Collinson- Walking Rugby Upper Eden
Sun 21st October 2018 at 11.00 - 12.00 Heart Of Eden Half Marathon
The Heart of Eden Half Marathon is due to start at 11am on Sunday 21st October outside the Grammar School.
Fri 26th April 2019 at 19.00 - 08.00 Charter Night
Details of the evening will be put on nearer the time.
Sat 11th May 2019 at 09.00 - 17.00 2019 CAR TOUR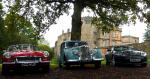 Date for our 2019 Car Tour