Future meetings and events
Wed 30th May 2018 at 18.30 - 22.00 Weekly Meeting - John Taylor.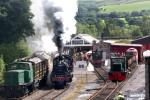 Trains at Kirkby Stephen
Wed 6th June 2018 at 19.00 - 20.00 Club Council + Weekly Meeting - Alan Green. The steward for June is due to be Neil Marland.
The club council meeting will be from 6-15 to 7-15pm followed by the weekly meeting with Alan Green providing the speaker.
Fri 8th June 2018 at 18.00 - 19.00 Appleby Horse Fair Car Parking 8th, 9th and 10th June.
Rotary members will be providing car parking at Appleby Fair, this is a major fund raising event for the club.
Wed 13th June 2018 at 19.00 - 20.00 Weekly meeting - Peter Ivinson, Partners Evening.
This was due to be a Paul Wilson speaker evening but has now been changed to a Peter Ivinson partners evening.
Sat 16th June 2018 at 09.05 - 11.00 Rotary Coffee Morning
This is due to be the second coffee morning of the year that Rotary arranges. The date is normally in July but this year it is on Saturday 16th June
Wed 20th June 2018 at 19.00 - 20.00 Weekly meeting - Business.
This is the usual monthly club business meeting.
Sun 24th June 2018 at 09.00 - 14.00 Rotary Fun Run and 10k
The 31st Fun Run and the 10k road race are due to take place on this day, all being well.
Wed 27th June 2018 at 19.00 - 20.00 Weekly meeting - Club Change over evening.
At this meeting members will see the presidential team for 2017/18 hand over to the team for 2018/19 Rotary year.
Fri 29th June 2018 at 19.00 - 23.00 Brenda Collins Evening at Hilton and Murton Village hall.
Brenda Collins - excellent comedian and Cilla Black vocalist
Fri 29th June 2018 at 19.00 - 23.00 Fund Raising Evening At Hilton & Murton Village Hall
A special event with top entertainer Brenda Collins, more details at a later date.
Sun 21st October 2018 at 11.00 - 12.00 Heart Of Eden Half Marathon
The Heart of Eden Half Marathon is due to start at 11am on Sunday 21st October outside the Grammar School.