Completed meetings and events 2017-2018
Tue 9th January 2018 Galloway National Park Association
Tue 9th January 2018 Council
Tue 2nd January 2018 No Meeting
Tue 26th December 2017 No Meeting
Tue 19th December 2017 Xmas Dinner
Tue 12th December 2017 John Frew
Tue 12th December 2017 Council
Tue 5th December 2017 Louise Finch
Tue 28th November 2017 Young People Speaking
Thu 23rd November 2017 Junior Youth Speaks
Public Speaking Competition for primary school pupils
Tue 21st November 2017 Micky Ball
Tue 14th November 2017 Club SGM
Tue 14th November 2017 Council
Tue 7th November 2017 Duncan McConchie (from Laggan Outdoor).
Tue 31st October 2017 Graham Finch
Tue 24th October 2017 Richard Haslam-Jones - Job Talk
Tue 17th October 2017 James Dunlop
Tue 10th October 2017 Maurice Halliday - Foundation - What's it all about?
Tue 10th October 2017 Council
Thu 5th October 2017 Young Chef
Kirkcudbright heat of Rotary national youth cooking competition
Tue 3rd October 2017 Youth Speaks
Thu 28th September 2017 Youth Speaks
A public speaking competition arranged at Kirkcudbright Academy
Tue 26th September 2017 Paul Campbell
Tue 19th September 2017 Visit by DG Lindsay Craig
Tue 12th September 2017 Business / Committee Meeting
Tue 5th September 2017 Katherine Glendinning
Tue 29th August 2017 Nigel Davies
Sun 27th August 2017 10th Annual Duck Race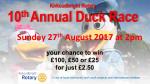 Be there at 2pm for this exciting spectacle
read more...
Tue 22nd August 2017 Mike Duguid
Sat 19th August 2017 Parade Day
Fun, food, stalls and beer on Moat Brae
Tue 15th August 2017 Visit to Lifeboat Station
Sat 12th August 2017 Galloway Recycle Sportive 2017
www.gallowayrecyclesportive.co.uk/
read more...
Tue 8th August 2017 John Carson
Tue 1st August 2017 Jean Best
Tue 25th July 2017 John Frew
Tue 18th July 2017 Keith Bruce
Tue 11th July 2017 Gordon Cowan - MacLellan Homecoming
Tue 4th July 2017 John Johnson - Job Talk
future
calendar