Completed meetings and events 2019-2020
Thu 29th August 2019 SHOC

At the last meeting Langley & Iver Rotary invited Mandy McGuire who is a leader of SHOC- Slough Homeless Our Concern, to come to talk about the organisation
read more...
Mon 19th August 2019 Windsor Races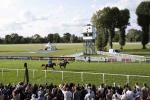 AN EVENING AT THE RACES
The sun shone all evening as a number of Rotarians and friends of Rotary gathered at Windsor Racecourse in mid-August for a social event of fun and friendship.
read more...
Tue 13th August 2019 Visit to Singapore

Meenu visited the Rotary Club Pandan Valley in Singapore on 9 November 2018.
read more...
Sun 11th August 2019 Rotary Safari 2019

11th August 2019
Tue 2nd July 2019 The end of an Era

The end of an Era
On Tuesday 2nd July, the Rotary club of Langley and Iver hosted a final farewell to our own Rotaract Club at the Pinewood Hotel.
read more...
future
calendar
district events
local events