Completed meetings and events 2018-2019
Mon 7th January 2019 Business Meeting at The Kings Arms
Mon 3rd December 2018 Special General Meeting and Business Meeting
at the Kings Arms, Eccleshall
Mon 19th November 2018 The Farming Community Network (FCN) - talk by Jeremy Lowe
a voluntary organisation and charity that supports farmers and families within the farming community through difficult times.
Mon 5th November 2018 Business Meeting at The Kings Arms
Sat 27th October 2018 - Quiz at Woodseaves Village Hall
Participants welcome from the Rotary Club and anyone else interested
Thu 25th October 2018 Visit to the Mayor's Parlour - Stafford
Members have been invited by Deputy Mayor Peter Jones. Time to be confirmed. Names to Secretary Steve Groom please.
Sat 20th October 2018 End Polio - collection in Eccleshall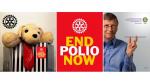 A collection was held on Saturday 20th October which raised over £400 for the End Polio campaign.
read more...
Mon 1st October 2018 Business Meeting - planning future activities.
at the Kings Arms, Eccleshall
Sun 30th September 2018 Asian Meal at Thornbury Hall, Cheadle in aid of the Jalalabad Disabled Center.
Tickets available at £20 each
Mon 17th September 2018 Presentation by Lucy Spencer on RYLA followed by Business Meeting
Lucy will give an account of her experience in taking part in RYLA in August 2018
Tue 4th September 2018 Rotary District Council Meeting
reports and agenda available from Club Secretary
Mon 3rd September 2018 Dementia Champions - talk by Rtn. Karena Roberts
at Kings Arms Hotel, Eccleshall
read more...
Mon 3rd September 2018 Business Meeting at The Kings Arms
Sat 1st September 2018 Eccleshall Agricultural Show 1st September 2018
Members supporting this important local event by manning the gate at various times during the day
Mon 20th August 2018 'My Life' - an informal talk by Club President John Morton
Details to follow
Mon 6th August 2018 Business Meeting at The Kings Arms
Mon 16th July 2018 Visit of District Governor Ashley Gray
An opportunity to welcome the new DG to our club.
Mon 2nd July 2018 Club Assembly / Presidential Handover at Woodseaves
7pm chez John & Judy Morton,
8 Woodhaven, Woodseaves.
STAFFORD ST20 OLL
Partners invited
read more...
future
calendar
local events