Completed meetings and events 2019-2020
Sat 14th December 2019 Christmas Grotto and Fair

Father Christmas will be in his grotto with a present for all the children. There will also be a variety of festive stalls, and the new Mark IV Human Fruit Machine will be in operation.
Thu 5th December 2019 'A Christmas Carol'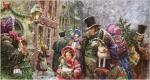 A concert of Christmas music and readings in All Saints' Church, Wold Newton, followed by supper at the Anvil Arms
Thu 7th November 2019 Charter Night and Celebration Evening

Celebrating the Club's Charter granted by Rotary International on 6th November 1947, and our service in the Community
Thu 17th October 2019 Meal meeting with speaker
Meet from 6:30 p.m. at the White Lodge Hotel, for meal at 7:00 p.m. followed by speaker
Thu 29th August 2019 Away Day Meeting at the White Swan, Hunmanby

Meet from 6:30 p.m. for meal at 7:00 p.m. followed by a brief business session
Sat 24th August 2019 Summer Fair

Summer Fair in Rooms 100 and 101 at the Evron Centre, Filey, to include cake stall, pre-loved clothes, tombola and the appearance in the outside area of the Human Fruit Machine
Thu 15th August 2019 Away Day Social Meeting for members and friends

Meet at the Anvil Arms, Wold Newton from 7:00 p.m.onwards
Rotary Young Leader Lydia Hanson will give a talk about her experiences at the recent Rotary Young Leaders Course at Hebden Hey.
Mon 5th August 2019 Human Fruit Machine at Filey Lifeboat Sunday

Our renowned human fruit machine will be in operation to support Filey Lifeboat Sunday by entertaining the crowds, and raising some money
Thu 1st August 2019 Projects Meeting

Meet to finalise plans for the Human Fruit Machine operation on Lifeboat Sunday, followed by drinks and bibbles
Thu 18th July 2019 Social Evening with meal
'Away from Home Meeting' - venue to be arranged. Watch this space for more details.
Thu 4th July 2019 Projects Meeting

Meet to review the calendar for the Rotary year 2019 - 2020, and plan for events in July and August. Drinks and nibbles will be served following the agenda items.
future
calendar
district events
local events