Completed meetings and events 2019-2020
Tue 6th August 2019 Club Meeting
Business Meeting
read more...
Tue 30th July 2019 Rev Robert Amos - Driffield
Ladies are welcome
Tue 2nd July 2019 Presidential Handover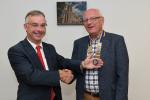 President John Fisher will be handed the Collar before the meal
Mon 1st July 2019 2019 Burton Agnes Sports Club Evening
Fun Evening at Burton Agnes. Places available for members, partners, and friends so hurry to book.
read more...
future
calendar