Completed meetings and events 2017-2018
Wed 27th June 2018 Speaker - President John Wilby
Wed 20th June 2018 Club Assembly
Wed 13th June 2018 To be Confirmed
Wed 6th June 2018 Business Meeting
Wed 30th May 2018 Fellowship Evening
Wed 23rd May 2018 Speaker - Dave Sadler, Saltburn Cricket, Bowls & Tennis Club
Wed 9th May 2018 Presentation by Rotakids
Sun 6th May 2018 Raising money for Defibrillators

In partnership with Saltburn Cricket, Bowls & Tennis Club an 8.5 mile sponsored walk from South Gare to Saltburn Cricket Club was completed. So far £4000 raised to buy Defibrillators for Saltburn.
Wed 2nd May 2018 Business Meeting
Sat 28th April 2018 Tombola at the Community Centre

On 30th June, we will be selling raffle & event tickets for Howzat 2018, raising money this year for RNLI.
Wed 25th April 2018 Speaker - Jacqui Molyneux, Rotary Foundation
Sat 21st April 2018 Club Trip to Whitby

An excursion to Whitby to team build, bond and have fellowship, whilst inspecting its many hostelries to ensure standards are being maintained
Wed 18th April 2018 Afternoon Tea for Polio Plus
Wed 18th April 2018 Afternoon Tea for Polio Plus
Another huge success. £600 raised which will be trebled by Bill Gates Foundation. Thanks goes to Saltburn Cricket Club, Emmanuel Church, Sainsburys and club members including organisers, Rotarians Julie Wilby and Lou Foster.
Wed 11th April 2018 Speaker - John Pearson, Doorways
Wed 4th April 2018 Business Meetiing
Wed 28th March 2018 Cheque presentation to Cancer Research

A cheque for £4,250 was presented to Cancer Research Fund Raising Manager Jan as a result of our Charity Ball efforts by organisers Julie and Lou.
Wed 21st March 2018 Speaker - Saltburn Scouts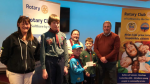 Wed 14th March 2018 Tea Party for Polio Plus
Wed 7th March 2018 Business Meeting
Wed 28th February 2018 Speaker - Jacqui Molyneau, District Foundation
Wed 21st February 2018 Speaker - Paul Murphy, Countryside Ranger
Wed 14th February 2018 Speaker - Colin Hart, Skinningrove Mining Museum
Wed 7th February 2018 Business Meeting
Wed 31st January 2018 Speaker from Saltburn Visually Impaired Group
Wed 24th January 2018 T.B.A
Wed 17th January 2018 Club Outing - Holey Moley Mini Golf
Wed 10th January 2018 Scatter Meeting
Wed 3rd January 2018 Business Meeting
Wed 27th December 2017 No Meeting
Wed 20th December 2017 Christmas Dinner
Wed 13th December 2017 TBA
Wed 6th December 2017 Business Meetiing
Wed 29th November 2017 Fish & Chips at Seaview Fish Restaurant
Wed 22nd November 2017 Chris Price, NYMR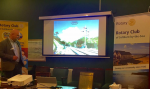 Wed 15th November 2017 Club SGM
Sun 12th November 2017 Saltburn Athletic Open Day

A project of the club for 20 years Saltburn Athletic opened their new changing and ground facilities
Sun 12th November 2017 Rotary Remembers

President John Wilby and club members attend the Remembrance Day Ceremony at Saltburn War Memorial.
Sat 11th November 2017 Raffle tickets for Cancer Reasearch

Club members selling raffle tickets for Cancer Research at the Farmers Market, Saltburn
Wed 8th November 2017 Speaker - Lynda Parkes, Saltburn in Bloom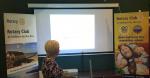 Chairman Lynda Parkes, informs the club of the vital work of the Saltburn in Bloom team
Wed 1st November 2017 Business Meeting Meetiing
Wed 11th October 2017 Rotary Tree Initiative

District Tree Champion Paul Keeley gave an excellent presentation on The Rotary Tree Initiative to the club
Fri 6th October 2017 - Sun 8th October 2017 District Conference 2017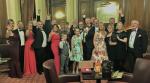 What an impressive bunch
Wed 4th October 2017 Business Meeting
Monthly Business & planning meeting
Wed 27th September 2017 Speaker - Great North Air Ambulance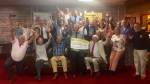 Saltburn Rotary hand over £4291.50p to The Great North Air Ambulance
Wed 20th September 2017 Visit of DG Len Burns
DG Len presents Paul Harris Fellowships th members Peter Johnson & Alan Whiley
Sun 17th September 2017 Cricket for all the Family

Saltburn Rotary Club v Saltburn Cricket Club
(It was cricket Jim, but not as we know it)
A sound thrashing but the Bar & Buffet were magnificent
Wed 13th September 2017 Speaker - Friends of the Valley
Wed 6th September 2017 Open Meetiing
Sun 3rd September 2017 Howzat Music Festival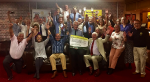 In partnership with Saltburn Blues Club and Saltburn Cricket, Bowls & Tennis Club the town's first Howzat Music Festival raised £4291.50, handed over here to the Great North Air Ambulance
Wed 30th August 2017 Guest Evening - TBC
Wed 23rd August 2017 Speaker - Andy Croll SAFC
Wed 16th August 2017 Fellowship Meeting -TBC
Wed 9th August 2017 Speaker - Councillor Karen King, Mayor of RCBC
Wed 2nd August 2017 Business Meeting
Wed 26th July 2017 Speaker - Reverend Arthur Harbottle
Sun 23rd July 2017 T 20 Cricket at Headingley Sunday 23rd July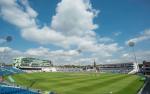 Annual Jolly Boys outing to watch the cricket
Sat 22nd July 2017 Community Centre
Promotion & Sale of Howzat tickets
Wed 19th July 2017 Quoits on the Moors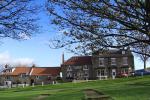 The annual quoits match followed by a bar meal at the Fox & Hounds in Ainthorpe.
Wed 12th July 2017 Business Meeting
Sun 9th July 2017 Rotary North East Games for the Disabled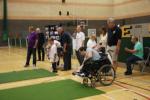 Club members will again assist with the indoor bowls competition
Wed 5th July 2017 Club Handover
President John Wilby will take the chair for his year of office
Sun 2nd July 2017 District Handover at the Ramside Hall Hotel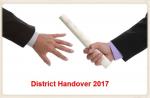 Join incoming President John Wilby and Julie to start their year in style
future
calendar
district events
local events