Completed meetings and events 2019-2020
Tue 17th September 2019 The work of the Leprosy Mission
Jayne Thomas, regional representative for Northumberland and Tyneside explains what they do in India and Nepal.
Thu 12th September 2019 Second visit to West Sleekburn Waste Management Plant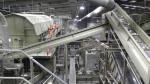 The plant was running the second time!
Tue 10th September 2019 Business Meeting
Club affairs
Tue 3rd September 2019 Great North Air Ambulance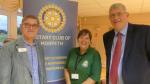 Our Auction will be held in support of this charity.
Mon 2nd September 2019 Council Meeting
At Golf Club
Tue 27th August 2019 No meeting
.
Tue 20th August 2019 Visit to Hauxley Nature reserve, followed by meal at Contact. Partners welcome.

At 2pm a guided visit around Hauxley Nature Reserve. (£2-3). Followed at 6pm by a social supper at Contact. (£8). Please advise Martyn which, or both, you will join.
Tue 13th August 2019 Business Meeting
Club affairs, and a presentation by Elaine Smith of Warkworth Rotary about the benefits of Rotakids and Interact.
Tue 6th August 2019 Wildlife in Northumberland
Christine Cocker, naturalist of Shetland and particularly Northumberland, shared with us from her photographic collection the richness of local wildlife on our doorstep. Especially the birds.
Mon 5th August 2019 Council Meeting
At Golf Club.
Tue 30th July 2019 Business meeting
.
Thu 25th July 2019 Visit to West Sleekburn Waste Management Facility.

A follow up visit on the waste recycling presentation by Lorna Tingey on the 18th of October. Unfortunately the plant was not operating due to breakdown. Hence the perplexed expressions!
Tue 23rd July 2019 - Wed 31st July 2019 New Member inducted

Mark Thomas being induced by President Martyn Jenkins.
Tue 23rd July 2019 Dai Richards

Dai is a litter ambassador. He will explain the role.
Tue 16th July 2019 Alex Swailes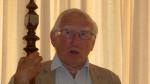 Northumbrian poetry and anecdotes about the Morpeth Gadgie, straight from the horses mouth.
read more...
Tue 9th July 2019 NOTE Venue Change : Business Meeting
Last minute change of venue to Primo Piano. Please see email from John Pringle with details and menu choices which must be given to Martyn Jenkins by Saturday 6th July.
Tue 2nd July 2019 Valedictory Address and Presidential handover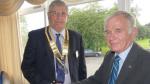 .
read more...
Mon 1st July 2019 Council Meeting
.
future
calendar
local events