Future meetings and events around the district
Mon 19th November 2018 at 19.00 - 20.00 South West Area Meeting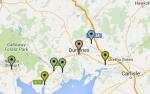 The South West Ara Meeting will be at 7pm, 19 November in the Cairndale Hotel, Dumfries.
Wed 21st November 2018 at 20.00 - 21.00 Borders Area Meeting

Hosted by the Rotary Club of Lauderdale at The Lauderdale Hotel, 1 Edinburgh Road, Lauder, TD2 6TW. The Club meeting will get underway at 7.00pm for 7.15pm, with the Area meeting commencing at 8.00pm
Thu 22nd November 2018 at 19.30 - 20.30 Central Area Meeting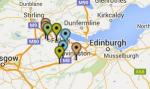 Hosted by the Falkirk Rotary club at the Park Hotel 22nd Nov at 7.30
Mon 26th November 2018 at 19.00 - 20.00 City Area Meeting

South Queensferry will host the next City Area meeting will be held on Monday 26 November 2018 at the Hawes Inn, Newhalls Road, South Queensferry EH30 9TA at 7:00pm
Tue 27th November 2018 at 19.00 - 20.00 West Area Meeting

The West Area meeting will held on Tuesday 27th November, Lifestyles, Carluke. 7pm for coffee and a scone.
Sat 8th December 2018 at 14.00 - 16.00 District AGM

District AGM - Carluke Lifestyles Centre. For details and papers see the District members only section.
Sat 23rd February 2019 at 09.30 - 14.00 PEPS2, DOTS
PEPS2, DOTS and AG Training, St John's Hospital, Livingston
Sun 7th April 2019 at 14.00 - 16.00 District Council Meeting

District Council Meeting, QUeen's Hotel, Lockerbie
Sat 4th May 2019 at 10.00 - 14.00 District Training Assembly
District Training Assembly, Inveralmond High School