Future District events
Sat 4th February 2017 at 09.30 - 14.00 DOTS 1
District Officer Training Seminar, Carluke Lifestyles Centre
Sat 4th February 2017 at 10.00 - 14.00 Young Chef District Final

The District Final of the Young Chef competition will take place on Saturday 4th February 2017 at West Lothian College, Livingston.
Fri 17th February 2017 at 12.00 - Sun 19th February 2017 - 12.00 RIBI Assembly
RIBI Assembly, Birmingham
Wed 1st March 2017 at 10.00 - 12.45 Rotakids Rally

Carmondean Community Centre, Nether Dechmont
Sat 4th March 2017 at 09.30 - 15.00 RIBI Regional Assembly, Stirling
For all Members of the District Executive and District Chairs and Committee Members, Club Presidents, Presidents- Elect and all interested Rotarians.
Mon 13th March 2017 at 19.00 - 20.00 South West Area Meeting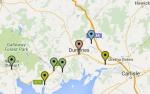 The next S W Area Meeting will be at 7pm in the Cairndale Hotel, Dumfries on 13 March.
Sat 18th March 2017 at 09.30 - 16.00 PEPS2 / DOTS2
Carluke Lifestyles Centre
Sat 1st April 2017 at 14.00 - 16.00 Young Musician Regional Final
Heriot Watt University
Sun 2nd April 2017 at 14.00 - 16.00 District Council Meeting

Dryfesdale Hotel, Lockerbie
Fri 7th April 2017 at 15.00 - 16.00 RIBI Conference
RIBI Conference, Manchester
Sun 21st May 2017 at 11.00 - 16.00 District Training Assembly
Inveralmond Community High School, Livingston
Sat 3rd June 2017 at 13.00 - Thu 15th June 2017 - 15.00 Primary Schhols Quiz District Final

Carluke Lifestyles Centre
Sat 10th June 2017 at 12.00 - Wed 14th June 2017 - 16.00 RI Convention, Atlanta
Rotary International Convention, Atlanta
Fri 30th June 2017 at 19.00 - 21.00 District Handover
Boroughmuir Rugby Club, Edinburgh