Future meetings and events around the district
Wed 7th March 2018 at 11.00 - 21.30 District 1090 Golf Day

Who will win the District Golf Cup? Clubs are warmly invited to enter teams for this popular day, held this year at the glorious Winter Hill Golf Club at Cookham
Thu 8th March 2018 at 19.30 - 22.00 District Executive Meeting 3

For District Executive members only - Christ Church Centre, Henley-on-Thames. 7:30pm
Sat 10th March 2018 at 10.00 - 16.00 Thames Valley District Interact Day 2018

Following two very successful Interact Days, plans are almost complete for the third one. Please share with your Interact Clubs and book now for a whole lot of fun! Space is limited and bookings close on Friday 2 March.
Sat 17th March 2018 at 10.00 - Sun 18th March 2018 - 16.30 Home Team District Officers Training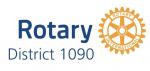 (*Chairmen: Community, Vocational, Environment and Youth Service) – Saturday 17th /Sunday 18th March 2018, Rotary Support Centre, Kinwarton Road, Alcester, Warwickshire, B49 6PB 10:00 – 16:30
Sun 18th March 2018 at 13.00 - 17.00 Young Musician District Final
This will be held in Reading - more details to follow
Fri 23rd March 2018 at 13.00 - Sun 25th March 2018 - 13.00 District Conference 2018

Be inspired and invigorated at the exciting new venue of Cheltenham Racecourse!
Thu 12th April 2018 at 19.30 - 21.30 District Council Meeting 3

NOTE CHANGE OF DATE - Benson Village Hall 19:30 - Tea/Coffee/Biscuits available from 18:45. All D1090 Rotarians welcome
Sun 22nd April 2018 at 13.00 - 17.00 Young Musician Regional Final
This year we will be hosting the Regional Final of this competition. More details to follow.
Sat 5th May 2018 at 09.00 - 13.30 District Assembly

To be held at the Christ Church Centre, Henley (TBC)
Tue 5th June 2018 at 19.00 - 21.30 District Executive Meeting 4

For District Executive members only - venue tba. Executive members 2018-19 also invited