Future meetings and events around the district
Penicuik - Sat 16th December 2017 at 19.00 - 22.00 An Evening of Festive Song on Saturday 16th December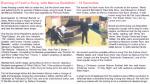 'An Evening of Festive Song with Marcus Swietlicki' in St Mungo's Church. Marcus, a former Penicuik High School pupil, was Scottish Winner of Rotary 2016 Young Vocalist competition and is now studying at the Conservatoire in Glasgow.
Penicuik - Thu 10th May 2018 at 12.00 - 14.00 Charity Golf Day 10th May 2018 in aid of CHAS

In 2018 this popular event will once again be held at the beautiful Glencorse Golf Club. You are very welcome to join us on the day.
Keep the date free. Details for entries will be posted later.