Future meetings and events around the district
Stroud - Sat 24th November 2018 at 18.00 - 22.00 Race Night - 24 November

Fund-raising Fun. Venue - Kings Stanley Village Hall - Jointly with Stonehouse Rotary.
Stroud - Sat 9th February 2019 at 18.30 - 18.30 The Ultimate Abba Tribute 9th Feb 2019 Lansdown Hall
For the last 2 years Elvis has appeared. This year we are pleased to have Abba. In aid of End Polio and local charities.
Will be a sell out, so get your tickets early.
Severn Vale - Fri 22nd February 2019 at 19.15 - 22.30 Quiz Night
To be held at Elmore Village Hall, food theme to be agreed
Gloucester Severn - Sun 12th May 2019 at 09.00 - 17.00 Gloucester Severn's Dragon Boat Regatta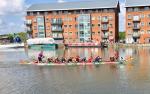 Held again in Gloucester Docks. Teams entries now open. Lots of other activities for all the family!