Future meetings and events around the district
Tewkesbury - Sat 23rd March 2019 at 19.30 - 21.30 Charity Concert at Tewkesbury Abbey

This is our annual Charity Concert held in conjunction with the Gloucestershire Youth Orchestras.
Cheltenham North - Sat 6th April 2019 at 12.00 - 19.00 Cheltenham Wine Festival
The Annual Cheltenham Wine Festival The Next Event Saturday 6th April 2019 12-3 and 4-7
Food available to purchase.
See "Details" on how to buy tickets.
Tickets available for 12-3 Sold Out for 4-7
Cheltenham North - Thu 16th May 2019 at 18.30 - 21.30 Gardeners' Question Time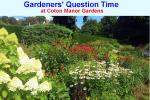 This meeting is in lieu of the normal Club Meeting
Note change in Location and NO meal will be provided Price £10 to include a welcome drink
A panel of four experts will answer questions supplied by the audience.
See "Details" for more information
Cheltenham North - Wed 12th June 2019 at 09.00 - 17.00 A Day out at Cattle Country with the Ridge Academy
Cheltenham North are taking Pupils from the Ridge Academy to Cattle Country.
See "Details" for the 2019 KidsOut Newsletter
Cheltenham North - Sat 22nd June 2019 at 12.00 - Sun 23rd June 2019 - 22.00 Beer and Cricket Fest.
The 6th Annual Beer and Cricket Fest organised by Cheltenham North Rotary Club will take place over the weekend of 22nd and 23rd June 2019
See "Details" for more information.
Cheltenham North - Tue 25th June 2019 at 09.30 - 18.00 Visit to David Austin Roses
Cheltenham North is supporting the event organised by Linc to visit David Austin Roses.
Tickets and Information from Gill Rouse
See " Details" for a brief overview.
Cheltenham North - Thu 5th December 2019 at 19.00 - 22.30 Club Christmas Dinner

The Club Christmas Dinner to be held at the Lilleybrook Golf Club
This is a "Black Tie" Event . More details to follow
Cheltenham North - Tue 17th December 2019 at 19.30 - 22.00 Carol Concert
Thank you for your support at the 2018 Event
The 2019 Carol Concert will be held on Tuesday 17th December
Pictures and update from the 2018 Event can be found under Menu or What we Do area.