Future meetings and events around the district
Brookmans Park - Sat 29th June 2019 at 19.00 - 23.00 Barn Dance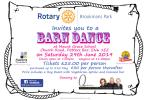 An end of the Rotary Year Celebration Barn Dance at Mount Grace School. Doors open at 7.00pm. Includes a Hog Roast. Tickets £25 per person. Buy tickets online or contact Robert on 07730 692009.
Brookmans Park - Sun 14th July 2019 at 16.00 - 19.00 Sunday Afternoon Picnic Concert

With the Fleetville Swing Band on Sunday 14th July at Townsend School, High Oaks, St Albans, AL3 6DR. Bring a picnic. Tickets £10 adults, £5 children under 16, under 5s are free. Contact david.clout@btinternet.com or mike@mailord.co.uk for tickets.
Harpenden Village - Wed 24th July 2019 at 14.00 - 20.00 Classics on the Common
Classic Car Show on Harpenden Common
Brookmans Park - Sat 30th November 2019 at 17.15 - 19.00 Christmas Tree Lighting
Christmas Carols, Brass Band, Mulled Wine, Hot Chocolate and Mince Pies