Future meetings and events around the district
Skipton - Sun 9th June 2019 at 10.00 - 13.00 Cycles2Recycle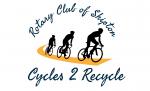 Auction and sale of bicycles. LAST DATE FOR COLLECTION OF BIKES IS 18th MAY. All bikes will be auctioned at CCM Auctions Skipton 9th June at 11.00. Viewing from 10.00.
Skipton - Sat 2nd November 2019 at 19.00 - 22.00 City of Bradford Brass Band concert - 2nd November 2019
Concert by this ever popular local Brass Band. Holy Trinity Church 7.30 start tickets £10 p.p.
Skipton - Wed 11th March 2020 at 19.00 - 22.30 Charter Night

This will be our 90th Charter celebration.
Skipton - Thu 19th November 2020 at 19.00 - 22.00 Black Dyke Band concert November 2020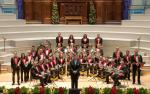 Black Dyke Band will be performing a selection of their works at Skipton Town Hall. Doors open 7.00pm & concert commences 7.30pm.