Future meetings and events around the district
Burntisland & Kinghorn - Thu 18th October 2018 at 10.00 - Sat 20th October 2018 - 16.00 Annual charity Shop
Come along and see what's on offer. Bric-a-brac, toys, books, China, soft furnishings, bikes, and many other items.
West Fife - Fri 19th October 2018 at 19.30 - 22.30 Concert by The Crossford Scottish Music Group

Crossford Village Hall
Glenrothes - Thu 25th October 2018 at 18.30 - 21.30 Halloween Party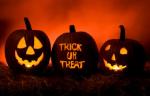 Halloween Fun - with stories from Archie Lawrie
Leven - Fri 16th November 2018 at 19.00 - 23.55 Silent Disco 2018

We are holding a Silent Disco after last years amazing success... tickets are £12 per person. Get your tickets fast as we did sell out completely last year.