Future meetings and events around the district
Leeds White Rose - Sat 17th November 2018 at 08.30 - 14.00 YOUNG CHEF COMPETITION 2018/2019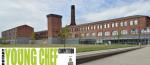 Are you… Or do you know someone who is:
11 – 17 Years Old
Interested in cooking
Would love the opportunity to compete with other young people locally, regionally and nationally with similar interests, no matter what your level!
Leeds - Tue 20th November 2018 at 19.00 - 22.30 Festive evening

An evening of festive fellowship to raise funds for Lighthouse School, Cookridge. This event is now fully-booked.