Future meetings and events around the district
Washington Forge - Fri 18th October 2019 at 19.00 - 22.00 Race Night 2019

Fundraising night at the Nissan Sports & Leisure Complex
Washington - Fri 25th October 2019 at 19.30 - 23.55 Bop at the Biddick
Enjoy a night of live entertainment at the North Biddick Club whilst supporting two worthy causes
South Tyneside - Sat 2nd November 2019 at 19.30 - 22.30 Geordie Night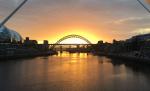 Dinner at the Customs House South Shields where Ray Spencer is to entertain in true Geordie style !
Not to be missed.
Tickets £20 per head to include dinner
7 for 7.30
Book Early to avoid disappointment .
Seaburn - Sat 16th November 2019 at 19.00 - 23.30 PRESIDENT'S NIGHT DINNER DANCE
A good night out is to be had on 16th Nov 2019 at the Grand Hotel, Seaburn. 7.00pm for 7.30pm. Dress formal. Reception drinks followed by a three course dinner and coffee.
Cats Night Out will then play for dancing.