Future meetings and events around the district
Chelmsford Phoenix - Sat 12th October 2019 at 18.00 - 22.00 Quiz Night at Writtle Sports and Social Club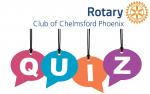 Come along to our next Quiz Night at Writtle Sports & Social Club
Paradise Road, CM1 3HP and Support Local Rotary Charities. Just £7 per person. Bar is available but bring your own nibbles!
Chelmsford Mildmay - Tue 29th October 2019 at 19.00 - 22.00 Social/fund raising evening for End Polio Now at Beauvoir Arms, Downham Road, Downham CM11 1QH

7.00 for 7.30 £20pp, paid before the day, for main course and dessert - menu below: please let Roger Spall have your choices by 18 October. All welcome!
Chelmsford Mildmay - Sun 17th May 2020 at 11.00 - 14.30 Great Baddow Charity Races
10 mile Road Race and 2 mile fun run