Future meetings and events around the district
Silloth-on-Solway - Sun 27th May 2018 at 11.00 - 16.00 Silloth Green Day

Family fun day for all the family, dog show, entertainment, learn about rotary in the district and lots more.
Cockermouth - Fri 8th June 2018 at 19.00 - 20.00 Film Night - Les Miserables
Film night in aid of Dewode to be held at Kirkgate Theatre, Cockermouth.
Penrith - Fri 3rd August 2018 at 08.30 - 17.00 Charity Golf Day 2018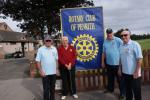 Charity Golf day on Friday 3rd August 2018 at Penrith Golf Club.
Silloth-on-Solway - Sun 16th December 2018 at 15.00 - 19.00 Silloth Santa Sleigh 2018

Santa will be again visiting the local care home followed by going round the streets handing out presents to all the local children!