Future meetings and events around the district
Penicuik - Sat 17th August 2019 at 10.00 - 15.00 Rotary Club of Penicuik is at annual Penicuik Street Fair 2019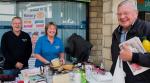 We will again be taking two or three tables at the Street Fair on 17th August.This is a chance for us to meet the public, chat, hand out leaflets and perhaps raise funds from the sale of books, jewellery, toys etc. Loads of stalls. Come and say hello.
Penicuik - Fri 29th November 2019 at 19.00 - 23.00 Rotary Club of Penicuik - 50th Charter Dinner
Please note your diary our 50th Charter Dinner will be held in the Original Hotel, Roslin on 29th November. Further information to follow soon.